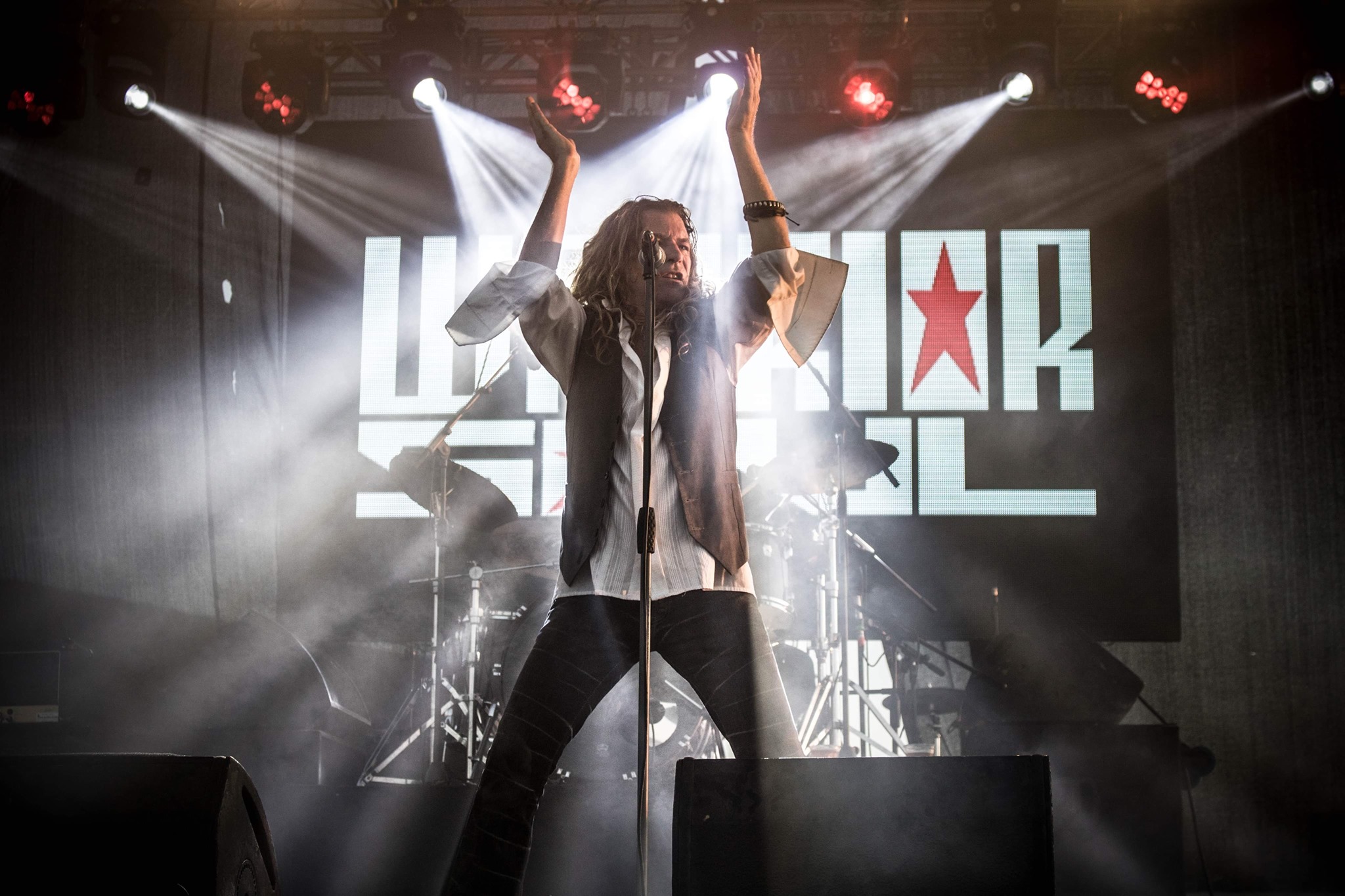 Warrior Soul (USA) – Roof Down (SWE)
Das perfekte Alternative/Hard Rock Package!
VVK: 20,- (+VVK-Geb.), AK: 25,-
Einlass: 19:00 Uhr, Beginn: 20:00
Tickets über Eventim und Eventim-Light
-Warrior Soul-
Kory Clarke is a singer, producer, band leader, frontman and artist/painter. Brought up in Detroit during the hard rocking 70's, he moved to NYC in 1984 and started confrontational hard rock outfit, Warrior Soul. Originally signed by Geffen records in '87, he produced and created the unique and incendiary firebrand that has released nine critically acclaimed albums including 'Last Decade Dead Century', 'Drugs, God and the New Republic' and 'Salutations From The Ghetto Nation' and 'Destroy The War Machine' . As uncompromising and fearless as ever, Warrior Soul return with the stunning new record 'Back On The Lash' (Livewire/Cargo Records). 'BOTL' is a stiff middle finger to corporate corruption and raises several glasses very high with boozed up anthems such as 'I Get Fucked Up', 'I've Got The Rock', as well as the hedonistic title track 'Back On The Lash' – all concocted under the influence of Clarke's fully loaded rock 'n' roll psyche. As Kory says "the response to 'Back On The Lash' has been swift, definitive and very, very positive. People are starting to understand where I am coming from as a writer and an artist. We are planning a real Warrior Soul blast off that also includes the Space Age Playboys material performed at Donington in '95, as well as introducing the new songs. Looking forward to a real smash and a half and we are gonna rock, no matter what anyone else does!"
Warrior Soul are a band designed for rebellion and Kory Clarke is still leading from the front.
-Roof Down-
Stockholm alternative rock band Roof Down – Johan (Stonesilk) Sjöberg [vocals, guitar], Mats Stille [lead guitar], Thobbe Hermansen [bass], and Staffan Westelius [drums] released their fourth full-length album "Devil's Machine" worldwide on February 19, 2021 through GMR Music.
Founded in 2013, Roof Down have spent the past seven years pouring themselves into their music to define and perfect their sound. The music is filled with large open chords, energetic bass, punishing drums, and vocals filled with emotion.
With their own modern spin on the classic Seattle grunge sound, Roof Down has embraced the heavy grunge feel with a twist of modern alternative rock that reflects the band's current procedural situation in relation to both the members' private journey and prevailing circumstances in society and in the outside world. A kind of group dynamic musical therapy!
"Devil's Machine" is filled with big, moody tracks that will connect with music listeners with the nostalgia of the grunge era while taking them on an unfolding musical journey.
Mastering engineer Dave Cooley, Elysian Masters, Los Angeles made his mark on this fourth album. Dave has worked with Stone Temple Pilots, Jimmy Eats World among others!
6/10p – Sweden Rock Magazine. "Smokin' and groovy retro grunge" (Anders Bartonek). #2 2021.
Rock'n'Roll Magazine. "The 90s is back!" #2 2021.
9/10p – The Maloik – Rock Blog (Pauline "The Poser" Pousár).
8.5/10p – "Very good album." Album Reviewz (Chris "The Knife" Gramvousakis).
"Sounds epic!" – Elysian Masters LA (Dave Cooley).
"Album Of The Week" – Hit-Tracks Top 100 (PICA, Ron Pennings).
"Highly recommended" – The Murder Inn.it – Italian Metal Webzine (Lenny Verga).
3/5p – "Roof Down would make a good arena band". The Independent Voice Ezine (Demitri Levantis).
"Very remarable post grunge/alternative rock" – www.hardrock.gr
"Roof Down perfectly encapsulate the classic grunge sound and pin it down to a tee" – Boston Rock Radio (Allyson Kingsley).
Connect with Roof Down:
http://roofdown.se
https://www.facebook.com/roofdown